High precision trimming is available to follow heat shrinkage and shape distortion.
Make it possible which cannot be automated.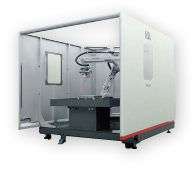 Trimming machine for nonwoven & plastic parts

Tooling by own-developed ultrasonic cutter

Alternative method to water & laser

Reduced running cost to 1/8, No noise, No cut waste

Off-line teaching is available.

Ultrasonic cutter & milling tool are equipped as standard.
Trimming process can be automated and process-hour can be squeezed dramatically.
Applicable for every type of plastic and metal material.
Own-developed blade is employed. Second process bur can be reduced drastically.


(Special blade is subject to be employed due to kind of work.)

Ultrasonic cutter type machine
Equipped with patented ultrasonic cutter with work profiling function
Milling type machine
Equipped with patented navigation tool, namely work profiling tool with end-mill
Epoch-making Ultrasonic Trimming Machine.
It makes trimming process automated which was impossibe past time.