(Regional innovation business by the Ministry of Economy, Trade and Industry) (Patented)

Super low-cost & Super high quality Injection molding system of low clamping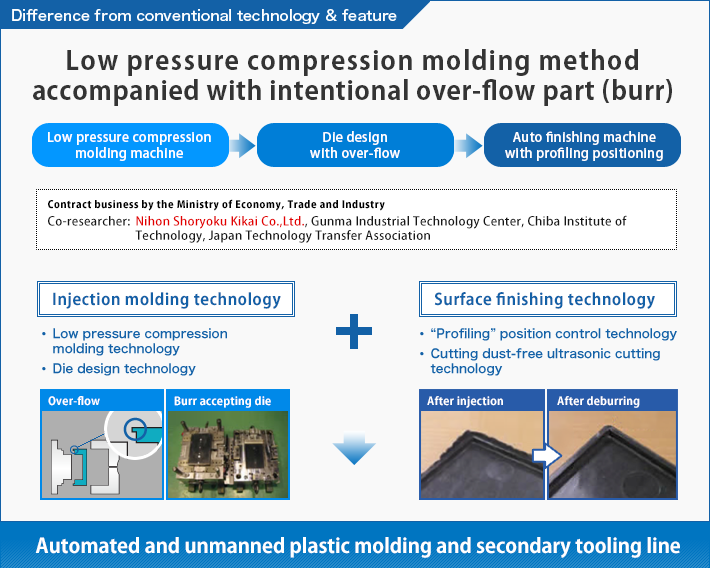 Substantial cost-down is possible
for large space & thin-section high-precision & high quality plastic molded products.

Compression pressure 1/2-1/5, Die clamping pressure 1/3-1/10
Small distortion ensures thin-wall. 0.8mm for PC (particularly large & thin products)
(Small shearing stress while filling in cavity and constant pressure ensure small molding distortion.)
No gas burn mark & PL burr
CFRTP is easy to cut due to bound fiber at over-flow part.
Max 50% cost down is possible (projected area expansion / multi production)
Stable dimension of molded products
Energy consumption 1/3

Plastics: polycarbonate, Plastics temperature: 300°C, Mold temperature: 105°C, Sample size:316×211mm, Section thickness:0.5-2.0mm (variable)
Sample No. / compression
Die
clamping
pressure
Die-
open
Peak pressure
(molding
machine)
Peak pressure
in die
(beside gate)
Peak pressure
in die
(outer side)
Plastics filling
rate
Test 1
Thickness 1.0mm/
general molding
(no compression)
50t
0
150.2MPa
56.6MPa
-
25%
Thickness 1.0mm/
0.5mm compression
50t
0
102.5MPa
28.6MPa
6.0MPa
100%
<Internal pressure
decrease ratio
by compression(%)>
-
-
32%
50%
-
Test 2
Thickness 0.8mm/
general molding
(no compression)
100t
0
170.6MPa
121.0MPa
-
22%
Thickness 0.8mm/
1mm compression
100t
0
89.5MPa
39.6MPa
12.7MPa
100%
<Internal pressure
decrease ratio(%)>
-
-
48%
68%
-
| | | |
| --- | --- | --- |
| Results at section thickness 1.0mm | | Results at section thickness 0.8mm |
| | | |
Test 1 proves following;
While conventional injection molding needs 50 ton die-clamping pressure, injection compression molding needs only 1/5 pressure to ensure perfect molding with 100% plastic filling ratio.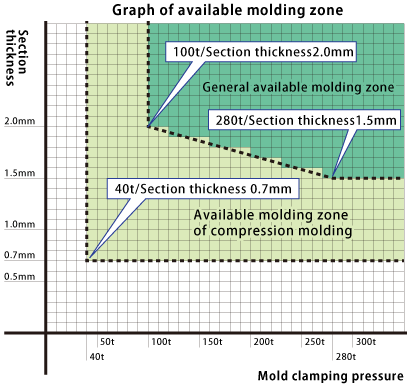 ♦Right hand diagram shows available molding zone by mold clamping pressure and section thickness. It was proven by this research. Utilization of injection compression molding ensures availability of thin section molding as well as substantial reduction of mold clamping pressure.

♦This is new ripple effect of our technology which was not recognized in the beginning.