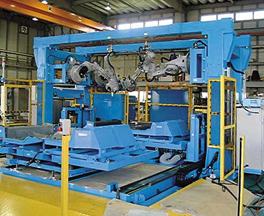 While Ultrasonic cutter is already applied in various field, we hereby introduce the method mainly applied for automotive interior material. Namely, it is applied for relatively soft and thick material which has complicated 3-D surface and contains glass fiber.

The cutter blade is made of high speed tool steel and carbide.
The oscillator is specified for high speed & heavy load cutting. The oscillator consists of PZT and auto tracing control is employed to secure stable cutting.
The cutting tool is held with 6 axes or 7 axes vertically articulated robot so that most suitable motion is available for this method.

Following technologies constitute this method; Material fixing, pressure cutting, profiling cutting, cutting condition optimization (feeding rate, feeding direction, blade position and oscillating direction etc.), blade monitoring, auto grinding, off-line teaching and robot engineering etc..


To cut out complicated soft material like carpet in complicated shape on industrial base, Water Jet and Die Cutting with press machine are used conventionally.
1. Water Jet Cutting enables high speed and various shape cutting. However, it has drawback such as accompanied many capital investment, high running cost, adverse effect to the material by water and burr on cutting section etc..
2. Laser Cutting cause material melting and fire risk.
3. Die Cutting by press machine is good for high volume production, but invites difficulty for design change.

Ultrasonic Cutting solves the problem of above 3 methods.
* This method was certified as "New business development by collaboration amongst different field business" by Japanese government in Sep. 2005.