Deburring & chamfering by work profiling (New method)
can accept shrinkage of plastic molded parts to ensure constant deburring and chamfering.
Deburring and chamfering are not affected by blade penetration and work situation.
* Blade cut-in value is controlled by Tool holder constantly so that complicated and odd-shaped work can be processed and work shape distortion can be accepted.
By simple robot teaching, deburring process can be ensured.
Deburring car sun visor
Deburring and chamfering car engine parts
Deburring food container

Deburring car air spoiler
Chamfering car driving parts
Deburring tool box

Navigation tool example (New process)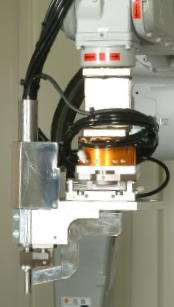 High rigidity type floating tool for deburring

Z-axis direction profiling (Only one technology)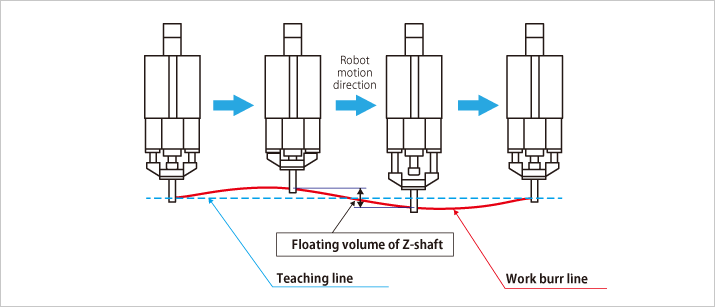 Grinding belt performs profiling grinding job on work.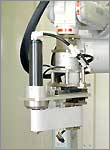 Optimum for fine deburring and finishing on carved shape work.
* Tooling to drive grinding belt by air motor since grinding sponge roller performs grinding job, grinding belt can profile work shape. Optimum for carved shape work, fine deburring and finishing.

Special cutter do cutting job with knife or chisel accompanied with ultrasonic vibration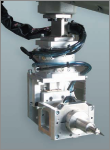 Composite material, rubber, leather, thermoplastics etc. can be cut without cutting dust. Fine cutting surface is featured.
* Cutting manner accompanied with ultrasonic vibration of 22,000/ sec 30~40µm can drastically reduce cutting resistance, prevent cutting dust and ensure fine cutting surface.


Plastics heat insulating box
Car air duct

Optimum to delete adhesive squeeze-out at parting of top & bottom parts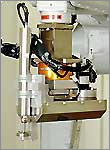 | | |
| --- | --- |
| | Deburring car air spoiler |